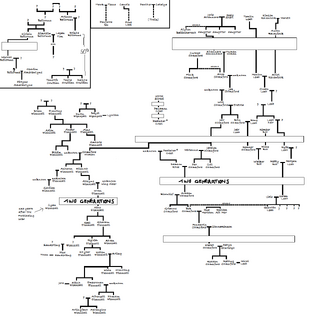 This Is The Ohmsford Family Tree. WARNING This page only includes direct descendants from Brin and Jair Ohmsford. Go to EDIT THIS PAGE to read this article.
   Jerle Shannara + Preia Starl
       (Generations Later)
             ??? + ???
                 1
          Shea Ohmsford + ???
                  1
          Jak Ohmsford + ???
                  1
           Will Ohmsford + Eretria
                   1

Jair Ohmsford + ??? Brin Ohmsford + Rone Leah (Generations Later) (Generations Later) Jaralan Ohmsford + Miriana Kenner Ohmsford + Risse Boh
            1                                                   1

Par Ohmsford + Damson Rhee Coll Ohmsford Walker Boh
(Generations Later)

BiornLief Ohmsford + Aradan
            1

Bek Ohmsford + Rue Meridan Grianne Ohmsford
     1

Penderrin Ohmsford + Cinnaminson
Ad blocker interference detected!
Wikia is a free-to-use site that makes money from advertising. We have a modified experience for viewers using ad blockers

Wikia is not accessible if you've made further modifications. Remove the custom ad blocker rule(s) and the page will load as expected.