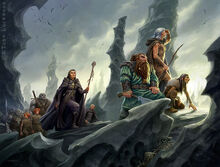 The Dark Legacy of Shannara is a trilogy of books set in Terry Brooks' fictional Shannara universe. The books mark the first time in seven years that Brooks has continued the Shannara timeline. The Dark Legacy of Shannara takes place about a hundred years after Straken, and details the efforts of the Fourth Druid Order to recover three missing sets of Elfstones, previously seen millennia ago in the time of Faerie.
Ad blocker interference detected!
Wikia is a free-to-use site that makes money from advertising. We have a modified experience for viewers using ad blockers

Wikia is not accessible if you've made further modifications. Remove the custom ad blocker rule(s) and the page will load as expected.